AUTUNNONERO. FOR THE FIRST TIME IN ITALY: "IN LIMINE",
AN EXHIBITION BY ERLEND MØRK
Mad, lost and isolated creatures, depicted and imagined in dark atmospheres, haunted by disturbing premonitions and obsessed by apocalyptic images and incarnations from the Otherworld. These are the subjects chosen by Erlend Mørk for the photographic exhibition "IN LIMINE", his first show in Italy. The exhibition (free entrance) will be held in Genoa, at the Violabox Art Gallery from 15 to 30 November and in Savona at the Priamar Fortress from 6 to 31 December. It is an exhibition unique in its genre, which represents another innovative change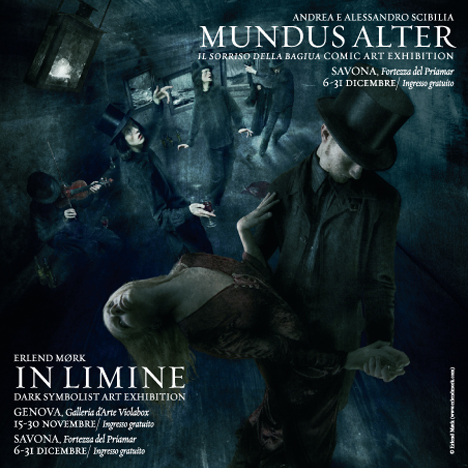 of Autunnonero, the International Festival of Folklore and Horror Culture directed by Andrea Scibilia and sponsored by Liguria Region in the most suggestive places of Western Liguria.
The author Erlend Mørk will be present at the opening ceremony on Saturday 15 November at 18,00 at the Violabox Art Gallery (Via Trebisonda, 56, Genova) and he will illustrate the works he chose for the exhibition: an extraordinary synthesis of several exposures which give birth to a unique surreal image. The artistic production of Mørk gathers visions and reflections which carry us beyond reality and to the other side of life as we know it. "Before Your Darkness", "Desolation", "The Night To Forget", "Nos Morituri", "Cerebrium", "The Unknowing ", "Rhyme of the Machine" are only some of the works included in the exhibition which testify Mørk's constant oscillation between the search of absolute and an extreme relativism. Mørk opposes to the fundamental questions about existence a dreamy metaphysics which investigates the psychological and spiritual aspects of reality and tells about creatures which annihilate themselves trying to know an objective reality.
- Andrea Scibilia
For more info:
www.autunnonero.com, www.violabox.it.

Go back.